East Longmeadow High School
Class of 1964
In Memory
David Zuccalo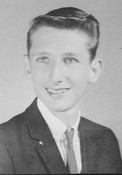 The following obituary for David Zuccalo was published in the Springfield Union-News of December 21, 1995:
David F. Zuccalo, 49, of 109 Potwine Lane, died Tuesday in Doctor's Community Hospital in San Juan, Puerto Rico, where he had gone with his wife, Illia Cornier-Rivera, seeking treatment for cancer.Most recently, he was a third-grade teacher in the Holyoke school system. He was also the first director of Children's Services in Amherst.
Born in Springfield, he was a graduate of East Longmeadow High School and the University of [Massachusetts at] Amherst. He also received his master's degree in education from UMass.
Besides his wife, he leaves two sons, Stefan Zuccalo-Mandle and Kalil Baez-Cornier, both of Amherst; a brother, William of East Longmeadow, and a sister, Barbara Bordeau of Ludlow.
The funeral will be Saturday at Douglass Funeral Home, and in St. Brigid's Church, with burial in South Amherst Cemetery. Calling hours are Friday afternoon and evening.