East Longmeadow High School
Class of 1964
In Memory
James Goodlatte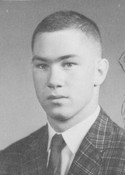 In Remembrance of Jim Goodlatte
Jim was a smart, fun loving guy who always lit up the room. Family and friends were devastated when he died so young and we all still love him and miss him to this day.
During high school, Jim participated in football and other activities.
After graduating from ELHS, Jim went to George Washington University in DC in 1964-65 and then worked at the Rayburn House of Representatives office building. In 1966, Jim enlisted in the U.S. Navy and was assigned to ships in Norfolk VA, Bremerton, Washington, and then Newport RI.
During his fourth year in the Navy, Jim drowned on Dec. 7, 1969, just 4 days after his 23rd birthday, after he had been assigned to the Navy base in Newport, RI.
In 1969, Jim was survived by his mother Jeanne and three brothers, Dick, Bill and Pete. Jim's father, A. Richardson Goodlatte, died in an car accident in 1961, when Jim was 14. In 1977, Pete & Maria named their first baby James, in memory of Jim.
--Peter Goodlatte

I remember the VW and the race to the RI beaches..his laugh was infectious.......the Navy was probably not the best situation for Jimmy......Jim was funny, lovable, and really smart....one wonders what leadership position he would have been active in and how he would have influenced events...what a loss...

--Ken Mosedale